How to read way more books with benefit and to have fun in the process?
Reading is to the mind, what exercise is to the body.

Joseph Addison
Did you ever have a feeling that life is passing you by, while there are so many things you did not have time to do? Do you feel like you are not competent enough in your area? Or maybe, you dream about changing everything radically, but don't know what to start with? You are not the first to face those problems and try to solve them.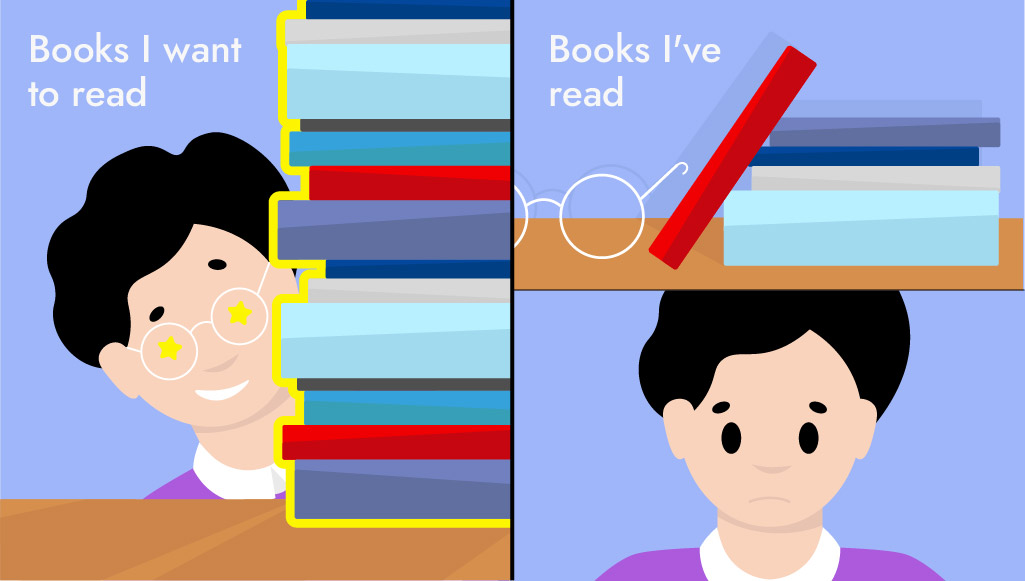 Some people have shared their experience through books, in which you can find your answers. This is why the importance of reading is unquestionable. You still have to make yourself read and find time for it in the midst of the fuss of life. You also have to learn to take full advantage of the books. So, how can you read more books, read faster and retain more? The authors of the productive reading service Storist will share the tips with you.
Benefits of reading books or why do you need it at all?
To become smarter, to be aware of your goals, understand the ways of reaching them and follow those ways. Books are the source of self-education.
To "upgrade" your brain regularly. More information – more food for thought. Reading develops memory, intellect, imagination, and helps to think outside the box.
To be interesting to talk to, to be competent in different areas and broad-minded, to improve your language and speaking skills.
To understand people better. Literature, especially fiction, gives you an opportunity to observe people's actions and their consequences, developing your empathy.
To become happier. Scientists claim that people, who spend their spare time on reading, have a healthy sense of self-esteem. They overcome their problems easier and have a cheerful positive thinking attitude.
Checklist
The first thing you have to do before starting reading is to decide how you want to do it. According to American philosopher M.Adler, there are 4 levels of reading:
Elementary – you just read a text, comprehending it correctly and easily, following the outcome of the plot. It fits for reading fiction
Inspectional – you skim through the page, understanding main points. It is good for studying large amounts of educational and working material.
Analytical – you study t2he material top to bottom, diving into the text, making notes, looking up words and phrases you don't understand. It can be applied to reading business literature.
Syntopical – you dive into the whole subject of the book, using two or more sources for confirming, denying or completing the facts. It is used by journalists and scientists.
How to read more books with benefits and pleasure.
Read what you like. Preferences in literature is a personal matter. There are no right or wrong books. You will read faster only if you are interested and engaged. Don't be afraid to put away the book that is boring or that you can't understand. Otherwise, this kind of reading won't be productive. You will distract more often and slow down. Probably, this book is not for you, or at least not at that moment.
Reading should not be a routine. If the book is hard to comprehend, but is interesting and valuable, you can spend 10-15 minutes a day, alternating with reading something lighter. While reading fiction, it is absolutely normal to skip some paragraphs or pages, if there are many unfamiliar words or boring descriptions. As long as you keep up with the plot. Don't rush. Enjoy fun moments, slow down if you want to. Remember: reading is not a competition.
Make reading your everyday habit. Go to your book any free minute – while you're in traffic, waiting for a kettle to boil, or while your children are watching a cartoon. Let this habit replace the one of being glued to your phone. It won't be easy in the beginning, but soon you will be able to concentrate on a book, even for a short period of time. You just have to do it every day. This will make you reach for a book automatically, as soon as you have a minute. You will read faster and consequently, more. Besides, you will be able to concentrate in any conditions around you – whether they are comfortable or not.
Start developing your reading habit with printed books. Your eyes will be less tired. The process is aesthetically more pleasing. While turning the pages, you activate your micro movements, which helps to learn the material easier. This is especially relevant for kinesthetic learners. Another advantage is that you can form your own library and read those books again and again.
Turn new technologies into an instrument for diving into the book. Printed books are not always practical to take with you anywhere. They can be ripped. This is where modern technologies can help. E-book is a compact device, which can contain numerous multi volume books. You can read at any time, make notes, even go online if you want to find a word you don't understand or a person you don't know. When you suddenly get some spare time for reading, a laptop, a tablet or even a phone can be of assistance. These days, there are special apps for pleasant reading of e-books. You just need to pick the one for you. If you do physical work or exercise, it is more convenient to use audio-books.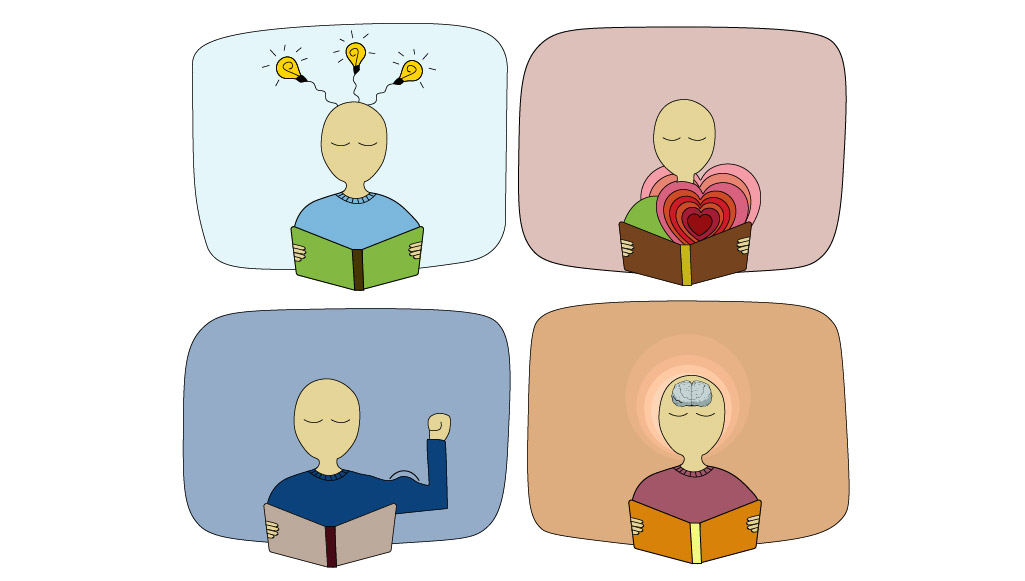 Select books. You don't need to read everything. Look through the ratings, feedback, reviews, summaries, contents of books. In a short time, you will realize what kind of a book it is and whether you need to read it. One more rule – if the first 15% of the book seem useless, you'd better put it away and find another one. Remember: our brain benefits from the literature, which loads it in a good way. Pleasant reading brings enjoyment, similar to the feeling of a "pleasant fatigue" after physical exercise.
"Dissect" the book. Write down the ideas you might need as well as key points of the book. Don't be lazy and look for meanings of the words you don't know. Slow down, if you need to comprehend something. Highlight unclear, but important parts, so that you can come back to them later and think. After the reading, it is recommended to write an essay to solidify the knowledge. A few more tips on how to read faster and retain more you can find in this Storist blog post.
Read different books. Prepare the list of books you'd like to read and need for self-education, work and study. Don't overthink – just read, experiment and get inspired. Choose separate genres. Each one helps to develop a different aspect of your personality. Don't be afraid to discover new information, broaden your knowledge. You can read one book out of necessity, and another book for pleasure. It might be useful to read several books on one particular topic, comparing them and analyzing the different approaches.
Share your emotions and conclusions. Great way to form your own opinion is by writing down your thoughts. Making your own review will help to comprehend what you've read. You can publish it in social networks, in a blog or in a thematic forum. Feedback is rather important – it is good to know whether the other readers agree with you. You might skip or misunderstand something. You can learn reading comprehension in groups, so that you could discuss a book with other people offline or online. Besides, it makes you more disciplined and stimulates you to read more.
Apply in practice what you have read
Perhaps, it is one of the most important tips. Otherwise, you will just forget the book. This is where Storist comes to help. The platform offers interactive summaries based on major world bestsellers. Key ideas of business literature are followed with real life examples, in which you will have to find the right decisions. Interactive tasks will help you memorize the contents and show how you can apply your knowledge. As a bonus – there are tests, templates, checklists, video and audio podcasts. Only 60 minutes for each book. With Storist you will be able to read and retain more and faster.