Video games as a successful business! What industry products millions of gamers are ready to purchase and why?
These days, video game industry has turned into a lucrative business. Video game development brings huge profits. A great example of this is the recent release of the Resident Evil 4 remake. Just two weeks after the issue, the total number of deliveries and digital sales has exceeded 4 million copies. Storist looked into the industry to see what was going on.
The first publicly presented computer game was created in 1950 by an engineer Josef Kates for the Canadian National Exhibition. His computer was called Bertie and the game – «Bertie the Brain». It was an old familiar tic-tac-toe, only on a large cathode-ray tube display. Ever since, video games evolved hand in hand with computers, and later with other gadgets.
In the 1980s producers of the arcade game Double Dragon 3: The Rosetta Stone came up with an idea on how to make more money on their product. They started to sell in-game items. Arcade machines were used to sell almost everything: bonuses, lives, weapons, special moves and even video game characters. This business model resulted in the huge success of arcade machines. For instance, in 1982 Space Invaders brought Taito over $2.7 billion, while Pacman's revenue from Namco in 1990 was over $3.5 billion.
As the development of the Internet progressed, new massively multiplayer online role-playing games (MMORPG) came about. Along with them, the new business model appeared – when the user has to pay for subscription in order to access the online gameplay. Because this model could not guarantee consistent income, many producers switched to free-to-play (F2P) – the business model, which means that you can have free access to a game, while the revenue comes from selling in-game items. These days there is big money in the videogame industry. Total video game market value was $184.4 billion, as of November 2022, according to annual stats by Games Industry, which includes analytical data from Newzoo, Sensor Tower, GfK and NPD Group. Mobile games took 50% of the market value, console games – 28%, PC games – 21% and browser PC games – the remaining 1%. Global digital game revenue for 11 months of 2022 was $173.8 billion, while global physical game revenue was $10.7 billion.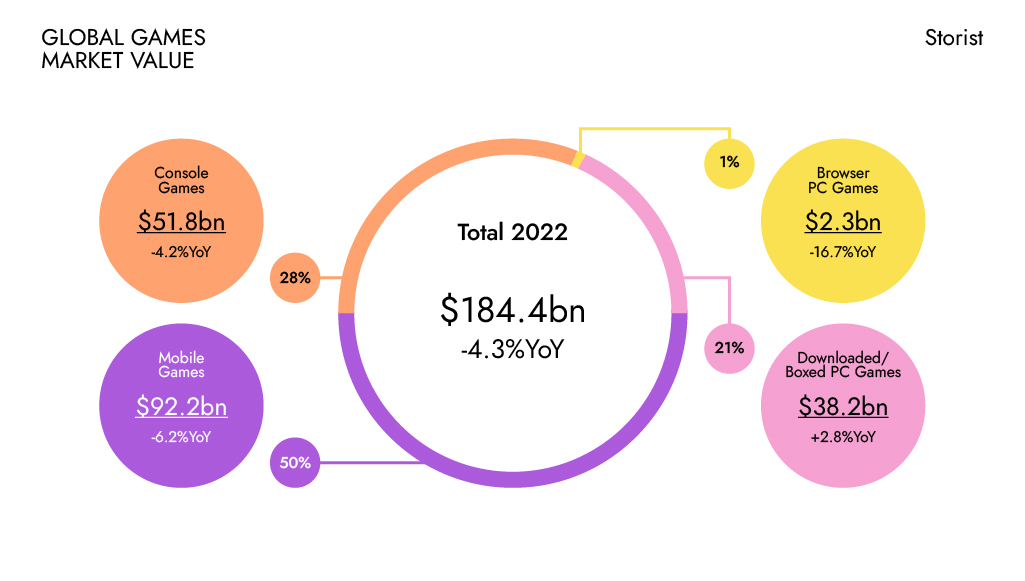 Video games that made their designers into millionaires
History has seen numerous digital games that immediately became popular and brought huge revenues to their authors. There are only some of them.
Minecraft
The idea of creating the game came to Markus Persson while he was working for Midas (now King.com), where he developed a sandbox MMO game Wurm Online. In this game, players could change their own environment. Later, Markus left the company to create his own studio Mojang.
Initially the distribution of Minecraft was carried out through a community of independent game developers TIGSource forum at the price of 10 euros. Two years later, in 2011, the beta version cost twice as much, while 1.5 million copies were sold. The major factor in the game's success was that players did not get any instructions on how to build a certain object. They had to ask other players on forums about it. This is how more and more people found out about this unusual sandbox. As a result, more than 25 million copies of the game were sold, without counting cracked versions. Later Markus Persson sold Mojang studio to Microsoft for $2.5 billion.
Angry Birds
In 2004 cousins Mikael Hed and Niklas Hed from Finland, created the company called Rovio. After a few years of continuous failures in their projects, the studio almost faced bankruptcy in 2009. The cousins realized they had just one more chance. They decided to create a game for a recently released iPhone.
However, when Angry Birds first appeared in the AppStore, it did not get many downloads. Apple refused to promote the app. Then Rovio started doing it by themselves in small countries' markets, like Finland, Sweden, Denmark and Czech Republic. It paid off, as the game became popular and AppStore in the UK put it on their main page as the App of the Week. From then on, nothing could stop the tremendous worldwide success of the game.
Company's total revenue exceeded the initial capital by more than 500 times. Angry Birds theme park was opened in 2012 and one of the birds became the official mascot of the Ice Hockey World Championship. In 2013 Angry Birds were put on Finnish post stamps; in 2016 the Angry Birds Movie came out, having a very successful box office.
Firewatch
The captivating adventure game was created by Campo Santo studio. The low-budget development process took two years, but the game was praised by both players and critics. In February 2016 Firewatch became the most downloaded game in the PlayStation Store. In the first month, 500 thousand copies were sold, the studio making $10 million.
The major factors in the success were fascinating game plot and thorough development. The authors realized that creating a quality product requires much time, so they needed an investor, ready to sponsor the long-term development process. And they found one in Panic Inc. As a result, the development team managed to work out the video game design in detail. In order to create a great atmosphere, they also went to Yosemite National Park, where they visited a lookout tower, which was later built in the same style in the game. The graphic designer Jane Ng hand-modeled 23 types of trees that were placed within the game 4600 times, which made the forest look incredibly real.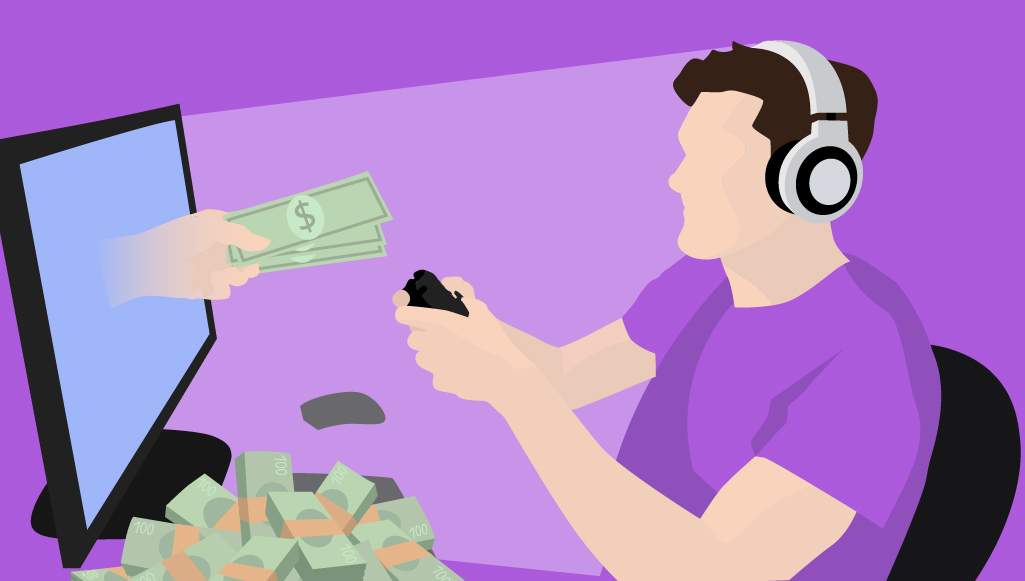 How to enter the game business?
Video game development is a complicated process, with many specialists taking part in it. Designers, visual artists, script writers, programmers, marketers – there are numerous game industry jobs. However, you can make great money not only by being directly involved in the process of creating video games.
For instance, you could be playing video games. Cybersport brings a solid income to both competition organizers and players. The League of Legends Championship was watched by more than 32 million people – it is more than an NBA Finals audience. Live streams are usually free, but the tickets for the actual event cost between $50-$100.
There are plenty of other ways to make money on video games:
Elevating a character's rating, helping to progress through the game or upgrading an account for money.
Selling advanced game accounts. For example, a Level 70 account in the World of Warcraft: Classic can cost between $100-150.
Game streaming is essentially a live broadcasting of the process of playing the video game. Streamers with big audiences get paid by the platform and the advertisers.
Game testing – finding the flaws in a game before its official release.
Whatever way you choose, in order to become successful, you need to practice your skills and expand knowledge. These days, learning about different working cases and secrets of success is quite accessible, by using examples of well-known entrepreneurs and their bestsellers. With the help of Storist interactive summary service you can not only read those, but practice and solidify that knowledge, while doing it in a fun way.
We have picked key books for each specialty and each competency that will help you acquire or elevate the necessary skills. Learning process won't take long – each mini-course is to be completed in 60 minutes. You can choose books by yourself or use a personalized development plan, which is a compilation of books, based on your current knowledge and future goals. You will get tips based on opinions of such leaders as Gordon Moore or Bill Gates, as well as on ratings of the best publications picked by users of large platforms like Amazon. Studying with Storist is fun and easy. Join in!