Top 9 Books For Those Who Want to Start Their Own Successful Business
When starting on the path to doing business, accumulating knowledge is the first step. Business books give invaluable insights and guidance, but there are far too many books on the market than a human lifespan would allow to read. So, in this material, you will explore some of the best books for business startups that can be used as go-to guides for not only building up business processes but also for reaching out to people and establishing priceless rapport. These books are always relevant. Since they are business bestsellers, they contain ever-relevant answers to eternal business questions, and they cover various aspects of doing business. Time to explore them!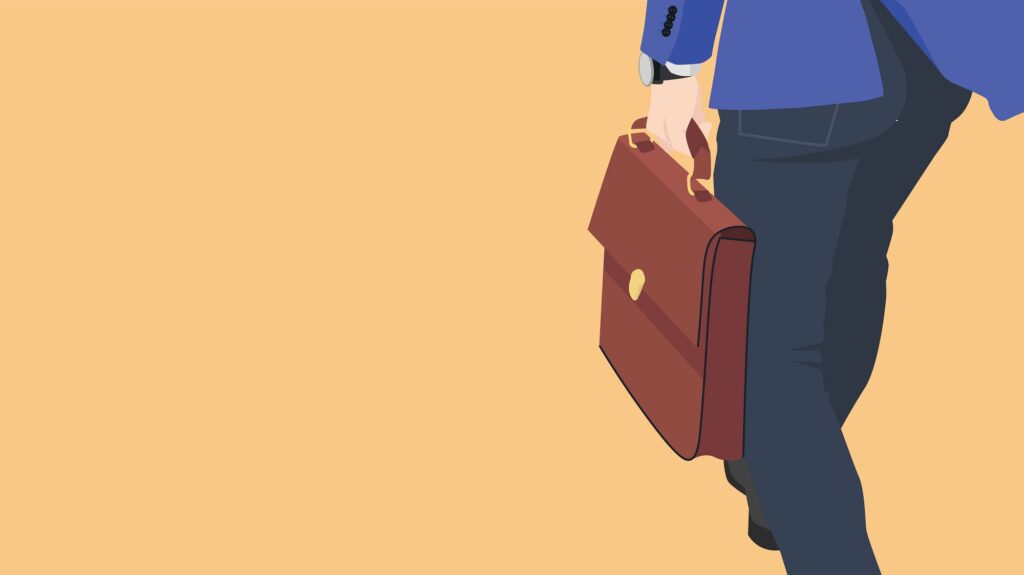 Why Entrepreneurship Books Are Useful, Especially Those on Our List
The best interactive summaries for starting your own business are always focused on certain aspects of a business. Creating a lean startup model takes effort and requires guidance. And who is better to provide such guidance down the path of business establishment than those who have already taken their stroll down it to success. See the following list of some of the best books on how to start a business that give clear and inspirational insights into business secrets:
"The Lean Startup" by Eric Ries – an engrossing read about building a startup model that does away with extra costs and needless hassles.
"The 7 Habits of Highly Effective People" by Stephen Covey – this book is must-read for those who focus on business mindsets and draw inspiration from the psychological aspects of success.
"Everything is negotiable!" by Gavin Kennedy – learn how to negotiate and find beneficial compromise in every situation to make your business run smoothly and ensure profitable contracts and deals.
"Getting to Yes" by Roger Fisher and William Ury – it takes only one big "yes" to truly succeed and this book tells you how to get to it past many smaller successes, landing the big contract that can set your business up for life.
"Zero to One" by Blake Masters and Peter Thiel – an interesting read for business entrepreneurs seeking to build their perfect startups from scratch.
"The Hard Thing About Hard Things" by Ben Horowitz – tackling challenges and making a difference illustrated, explaining the value of striving to achieve greater goals and how big risks and sacrifices yield greater rewards.
"Principles: Life and Work" by Ray Dalio – balancing life and work is a challenge, but this book sets the ground rules and principles that a business person can follow to ensure efficiency in work and happiness in everyday life through mental harmony.
"Company of One" by Paul Jarvis – the leader has to have all the qualities necessary to make a company run and this book illustrates step-by-step how to become the building block of a business and make it work in your stead.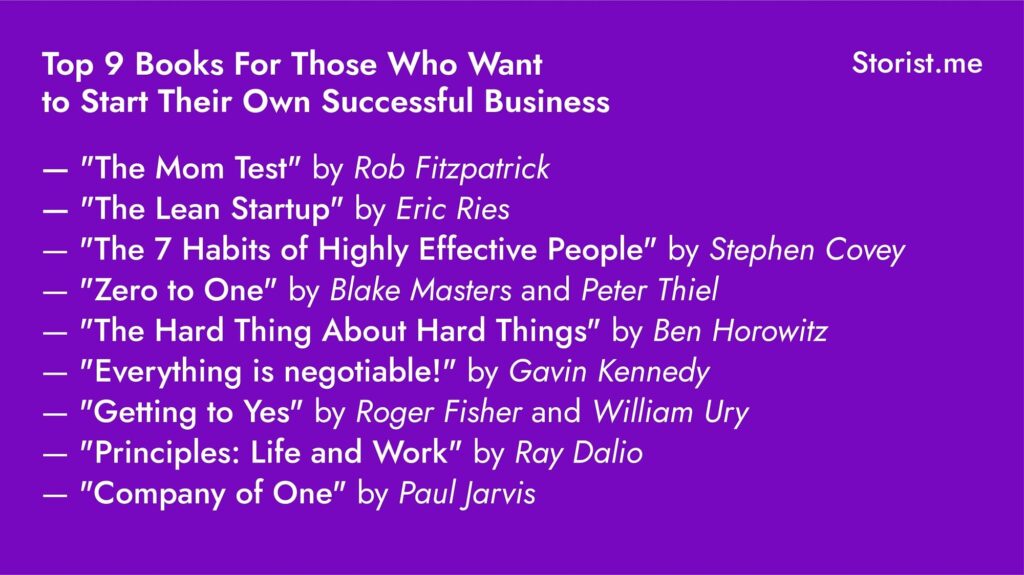 These books provide invaluable advice and hints on how to navigate various markets and avoid the pitfalls that many entrepreneurs stumble across during their careers. The value they convey resides not so much in their wording, but in the meaning behind them. Find out more about the value proposition of business books in the article.
But there's more, since Storist can offer a step further into personal business development through its own lineup of specialized interactive summaries:
"The Lean Startup" -> Scientific approach to startup development with guaranteed results.
"The 7 Habits of Highly Effective People" -> How to raise your productivity.
"Everything is negotiable!" -> The Bible of Negotiations.
"Getting to Yes" -> How to achieve WIN-WIN in any negotiation.
These interactive summaries are perfect launchpads for setting up the right mindset when deciding on a business idea or selecting which books best suit you as an entrepreneur.
Every book bears its value and it is up to the reader to decide which knowledge he is looking to get. In-depth oversight of startup methodology and mental structuring guides are all available on the Storist platform.
Don't Wait – Act!
The business starts from you, and books are the necessary food for thought to inspire and educate. Find the full catalog of Storist Entrepreneurial Interactive Summaries here and sign up to find your perfect interactive summary to suit your needs.
Set up your business startup checklist and sign up to Storist to read your books of choice.