7 books to help you navigate the metaverse of new business opportunities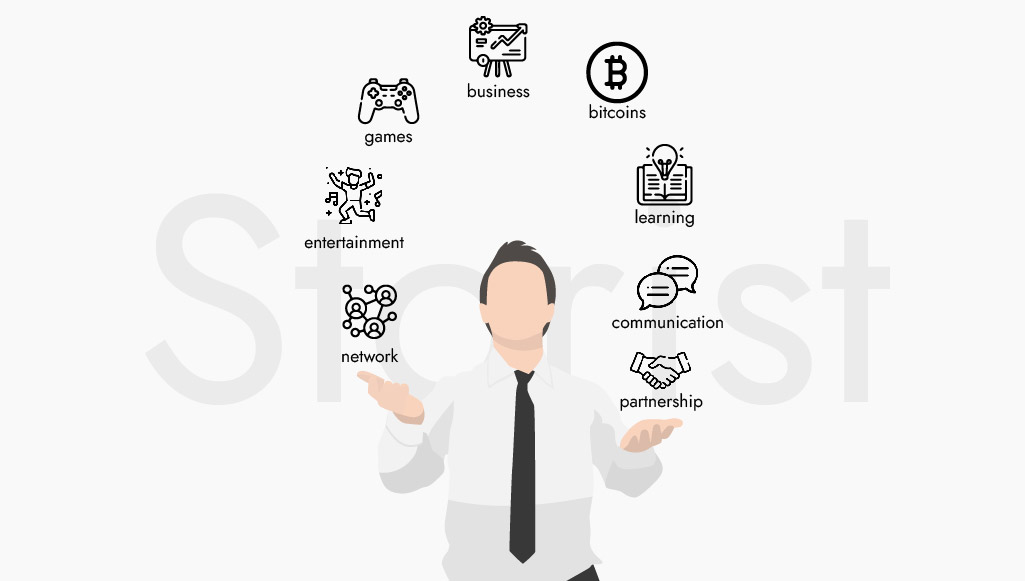 The term "Metaverse" originates from Neal Stephenson's 1992 science fiction novel "Snow Crash". The Metaverse of Neal Stephenson resembles modern social networks. Only the communication happens with full immersion to the virtual city environment, which is provided with Internet and VR-glasses. Some elements that he described and predicted in his book have come to reality now: from VR headsets to cryptocurrencies. Things that were only a fantasy thirty years ago, became possible and available in today's world.
Unstoppable progress of digital technologies penetrates all areas of life and business. More and more companies invest much in the development of digital technologies. Thus, we have virtual reality companies such Microsoft, Google, AMD, NVIDIA and Samsung.
Storist has picked 7 books about meta virtual reality, which will help to keep your finger on the pulse and to use the latest digital advances as new business opportunities.
The Metaverse: And How It Will Revolutionize Everything by Matthew Ball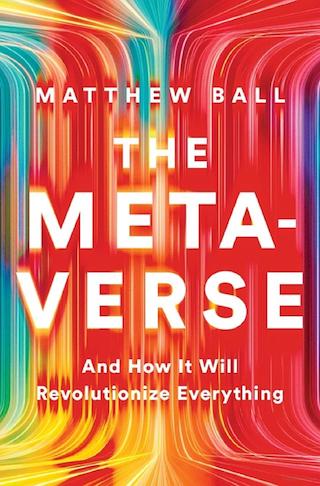 Matthew Ball is the CEO of a diversified holding company Epyllion.
The company makes startup investments, offers consulting services and produces films and video games. Matthew is also known for his blog, in which he contemplates Metaverse and analyzes development of different technologies in the digital world. You can find his essays in such media outlets as New York Times, The Economist and Bloomberg. According to Mark Zuckerberg, anyone who wants to know more about Metaverse has to read Matthew's works.
In July 2022 Matthew Ball published his first book «The Metaverse: And How It Will Revolutionize Everything». In this book, he gives his own definition of Metaverse, and suggests it should be viewed as the fourth Internet era, not as a separate part of the web. The author points out that the book comprises the most precise, deep and modern notion of the Metaverse.
Matthew Ball defines seven core attributes of the Metaverse:
Being persistent. it never "resets", "pauses" or "ends".
Being synchronous and live for all users.
Being available to participate for any users who can be present at the same time.
Being an economy – individuals and companies can be rewarded for their work and manage this reward, whether it is about spending, investing or trading.
Being a single digital space that spans both physical and virtual worlds, platforms and private and public networks.
Being populated by content and experiences, created by the users.
Do you want to know how digital space can look in the future? Then this book is for you.
Metaverse Investing Beginners Guide To Crypto Art, NFT's, & Digital Assets in the Metaverse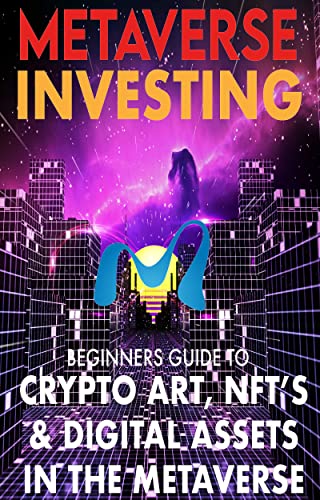 This is the first book in the series of manuals on Metaverse investing. The series includes three books and was done by different specialists in the area of advanced digital technology: scientists, economists, investors and traders.
The book will help you get familiar with details of investing into Crypto, NFTs and other digital assets. It is written in plain language and is great for beginners, who have just started learning about Metaverse.
From this book you will learn:
What Metaverse and blockchain are actually about.
How NFT and Crypto function in Metaverse.
Commercial use of Metaverse and artificial intelligence.
Ins and outs of earning money in Metaverse.
If you are already familiar with Crypto, you can choose another advanced book from this series – Metaverse Investing Beginners to Advance Invest in the Metaverse.
Learning in Metaverses: Co-Existing in Real Virtuality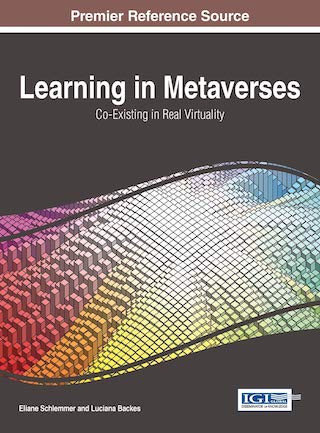 Virtual environment gradually changes the approaches in education. In her book, Eliane Schlemmer, a Doctor in Informatics and Education, looks at new methods of learning with the use of Metaverse. She studies new opportunities and how they can be implemented in learning through using avatars in virtual worlds. In this book you will learn about such platforms as Web 3D, Metaverse, MDV3D, ECODI as well as about gamification and alternative, mixed and augmented realities.
This reference source will be useful for scientists, educators, students, researchers, gamers and professionals.
Eliane Schlemmer is an author and developer of software and educational digital environments: AVA-UNISINOS, the UNISINOS island, ECODI and others. The key areas of her work are research, developments, teaching and education consulting.
Navigating the Metaverse: A Guide to Limitless Possibilities in a Web 3.0 World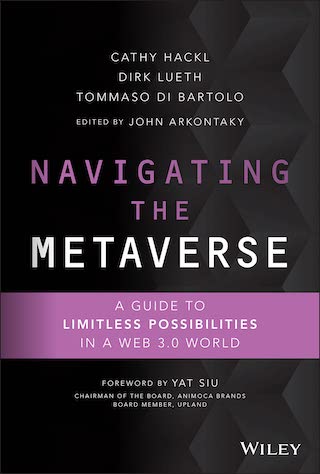 Metaverse, like the Internet, is a virtual space that connects people, companies, and products in both digital and real environments to create new economic opportunities.
In "Navigating the Metaverse" the team of Silicon Valley masterminds tells how to benefit from quickly developing the digital universe. In this book you will find:
Basic concepts of Metaverse, Metaverse economy, Web3 technology and many more.
Data and market analysis, which confirm the fact that Metaverse is the next big step of the Internet evolution.
A deep dive into the subject of NFT and the ways of benefiting from such assets.
An understanding of how to take advantage of Metaverse innovations.
The book represents a detailed review of the next era of online business and will be valuable for those who want to be kept up to date on future business opportunities in Metaverse.
Ready Player One: A Novel by Ernest Cline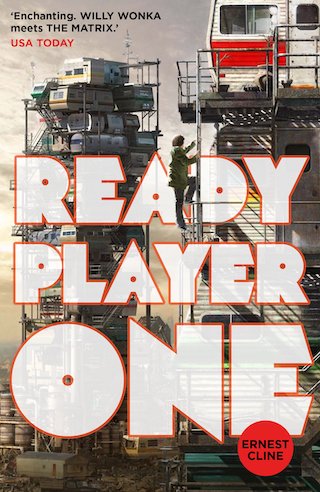 You can plunge into one of the versions of the Metaverse with the science fiction novel "Ready Player One". The book came out in 2011 and it was the debut novel of American writer Ernest Cline. His books have been published in more than fifty countries and remained in the New York Times Best Seller list for more than 100 weeks.
The plot takes place in the year of 2045. While the real world has turned into a disgusting place, most people spend their time in the global virtual world of OASIS. Teenager Wade Watts is one of them, feeling actually alive only when he dives into a Metaverse game.
When the creator of OASIS dies, he leaves the series of clues based on his love of pop-culture from previous decades. The one, who finds all the clues, will inherit control of OASIS and its entire fortune.
The main character finds the first clue and comes across unexpected circumstances. You can find out how things unfold after reading the book or watching Steven Spielberg's movie.
Reality Check: How Immersive Technologies Can Transform Your Business by Jeremy Dalton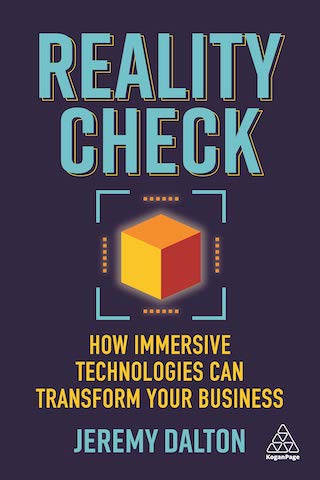 Jeremy Dalton is the Head of Metaverse Technologies at PwC UK, which helps its clients from all kinds of industries to implement virtual world technologies.
This book will be useful to everybody, who wants to learn more about immersive technologies and how they are implemented in organizations around the world. Immersive technologies are also called extended reality technologies, which include augmented reality (AR), virtual reality (VR) and mixed reality (MR). They create a sense of presence and immerse you into certain artificially formed conditions.
The book will undermine common misconceptions about AR and VR, like the one that they are expensive and hard to scale. You will learn how a company might integrate those technologies into business to help execute more effective and interesting Metaverse business ideas. In order to demonstrate how immersive technologies can be applied, Jeremy Dalton uses exclusive examples from the cases of such organizations as Lloyds Banking Group, the Courts and Tribunals of the UK, Honeywell and IKEA.
The Augmented Workforce: How the Metaverse Will Impact Every Dollar you Make by Cathy Hackl and John Buzzell.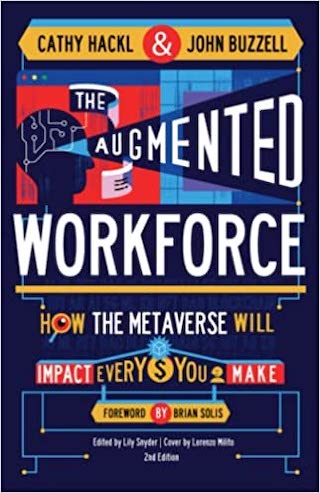 The book is written by Cathy Hackl, who is a globally recognized tech futurist, along with John Buzzell, who is a global partner of Epic Games – the leading company in the area of interactive entertainment.
This book will arm you with knowledge and examples for quick adaptation to technological changes happening around us. With the help of real life examples from the authors and business leaders you will learn how to use Metaverse opportunities for expanding and increasing profits of business. The book will be a useful tool, if you want to find out more about 5G, artificial intelligence, augmented reality and other new technologies.
The authors promise that after reading this book you will be able to see the world through AR glasses, using AI applications and at the speed of 5G.
Conclusion
Digital world around us changes with relentless speed and it is crucial to stay well-informed. Understanding new technologies gives you the edge in making strategic business decisions. You don't have to fully transform into a Metaverse company, but implementing advanced technologies will help your business to become more innovative and successful. An entrepreneur needs to be aware of the latest trends and get better constantly. For instance, you can broaden your mind, pick up valuable information and master new skills by regularly reading business books. Storist knows that there are many of them, while the time not as much. To help you save your time, we have created interactive summaries on most popular and useful business books. In just 60 minutes you will learn the key ideas of the book, receive new information and solidify it with a unique skills simulator.